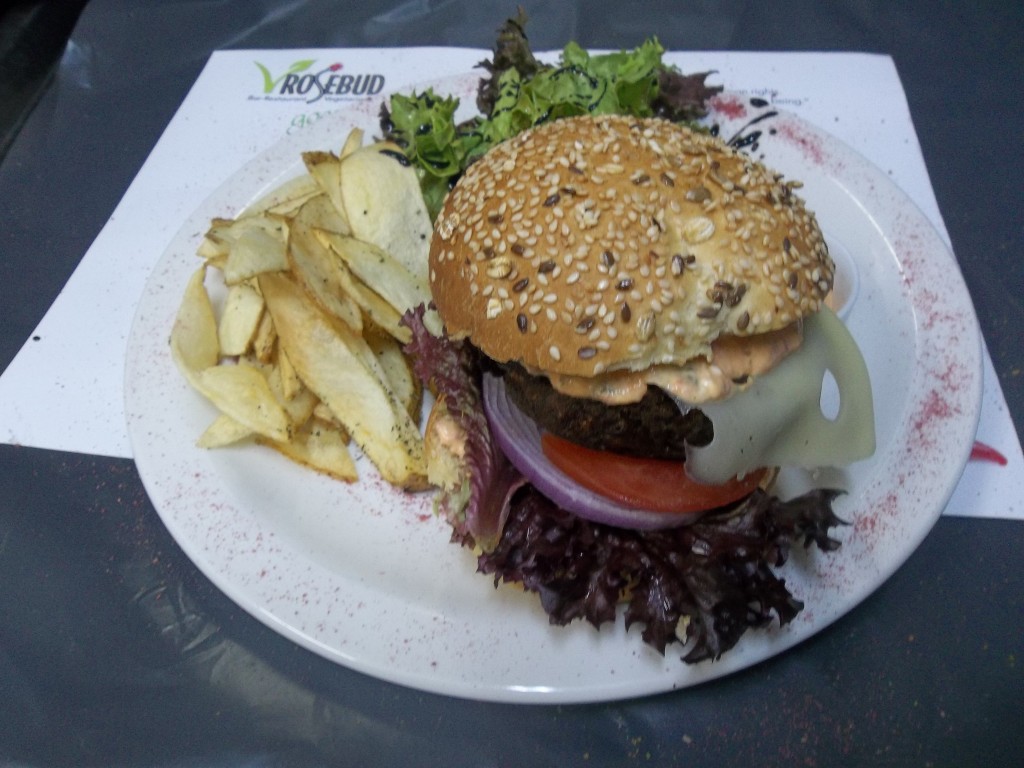 Ingredients
200 gr. champignon mushrooms  chopped
200 gr portobello mushrooms  chopped
200 gr pleurotus mushroomschopped
6-8 garlic cloves
2 tablespoons of thyme
4 tablespoons flour
1 cup grated parmezan
1 cup bread crumbs
1 organic egg
salt – pepper
Sauce
1 cup of mayonnaise
3 tablespoons of capers
2 pickle red peppers
Preparation
Place the mushrooms, garlic and thyme in an oven pan mix well and bake for 20 to 30 minutes at 180C (212 fahrenheit) or until they become crisp.
Allow the mixture to cool for an hour.
Take the half of the mushrooms and blend them well until they melt.
Put all the ingredients in a basin and knead them.
Put the mixture in the fridge for 1 or 2 hours.
 Make patties and deep fry them until they become golden brown.
Sauce preparation
Place the capers and the peppers in a blender and blend them well.
join the mayonnaise and mix with a spoon.
Burger ingredients / preparation
Burger breads
sliced onions
sliced tomatoes
slices of edam or other yellow cheese
lettuce leaves cut in half
Cut the burger bread in half horizontally
Apply the sauce in both sides
Put in sequence lettuce, onion, tomato, mushroom patties and cheese
Enjoy!!!
This is a recipe from the vegetarian-vegan restaurant "Rosebud" in Athens, Greece.
Address: Skoufa 40 – Kolonaki.