Rosebud in Athens, first opened in 2001 and soon became a favorite meeting point in the neighborhood of Kolonaki for coffee, meals and drinks, in a space inspired by Orson Wells. Quality and a warm atmosphere were the focal points.
In 2007, Rosebud extended to the first floor with a stylish restaurant, decorated with mementos, pleasing colors and movie lovers objects and music. Many parties, musical happenings and events were hosted in this space.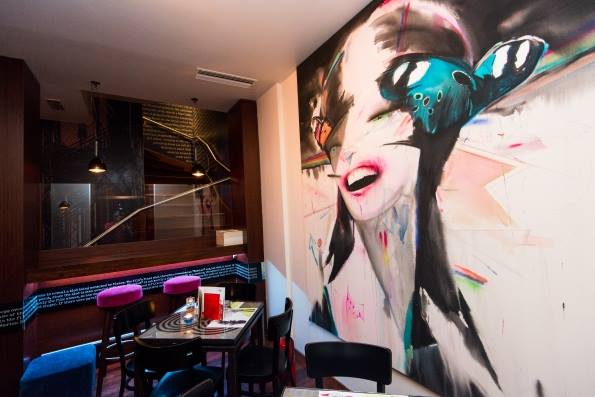 Vibrant decor at Rosebud
Photo Credit: Rosebud
In October 2012, Rosebud made yet another change by going green. It's now a vegetarian/vegan restaurant, proving that healthy food can be tasty and reasonably priced. The continuing search for high-quality ingredients keeps the menu first-class, with original and interesting tastes in this remarkable place.
The menu is updated every week with delicious tastes from all over Greece and also other countries, such as homemade wholegrain bread with goat's cheese, sundried tomatoes and grilled aubergines; tortilla with grilled vegetables and parmesan cheese; bruschette with fresh tomatoes and parmesan; marinated olives; and many more healthy delicacies.
Every month, a different wine producer is presented, with wine sold by the glass. Coffee in all its variations is a favorite for the morning hours, and the evenings are always vibrant and social.
Cool table setting at Rosebud
Photo Credit:
Rosebud